Four At The Door +
One More
A method for teachers to increase active engagement in their classrooms by 20%.
Each and every day educators have an opportunity to start intentionally with their students. With only so much time each day to work with, one would be wise to incorporate high-leverage strategies to make a difference in their classroom and school. Greeting your students intentionally each day is one of those actions that yields big results. At times, each new thing that comes, feels like "one more thing on our plate," but maybe it isn't about adding more to our plate as much as it is being more intentional with what we are already doing. Understanding the big difference between Academic Engaged Time (AET) and Time Dedicated to Instruction (TDI) puts a lot into perspective. Many times we think that we have active engagement, when in reality we have time dedicated to instruction. If we were to increase Academic Engaged Time by 5 minutes per day = +25 minutes per week; +15.8 hours for the year. If we were to increase Academic Engaged Time by 10 minutes per day = +50 minutes per week; +30.6 hours for the year. If we were to increase Academic Engaged Time by 30 minutes per day = +150 minutes per week; +92.8 hours for the year.
"The reality is that we do have the time when we make time for things that produce more Academic Engaged Time."
One of the high leverage strategies educators can infuse into their daily practice, that produces on average 20% more Academic Engaged Time in the average hour long class, is intentionally greeting students at the door. It is not enough to just stand their, but instead educators need to be intentional. At CharacterStrong we call it "Four at the Door + One More".
As you greet at the door in between class periods, before school, or after school be intentional in the hallways to role model what it looks like to make good eye contact with not only your students entering your classroom, but other students passing in the hallway as well. If a student isn't making eye contact with you, acknowledge them by greeting them with a positive statement, whether they receive it or not. Knowing that making eye contact is not always a sign of respect in all cultures, educators can still make the statement each day that they see their students and are glad that they are there.
Name to Name
One of the number one relationship strategies that an educator can role model for students is what it looks like to ask someone what their name is, what it looks like to work hard at learning names, and the humility required to ask someone again if you do not remember their name. Once you have a student's name, both from your classroom as well as other students passing by your room in the morning or throughout the day, role model using their name when speaking with them.
Always remember…names are important!
Hand to Hand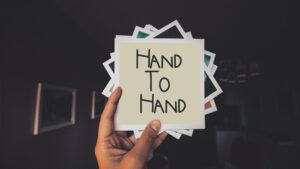 Remember that as human beings we were built to be relational. It is all about relationships! With each student that comes through the door, find some form of appropriate human contact and intentionally connect. This could be a handshake, fist bump, hi-five, elbow bump, or some other form of creative hand to hand greeting. If a student doesn't receive it, offer it anyway and remember that might be the only act of unconditional love that student has received all day long. Sometimes those people that are the hardest to give kindness to are those that need it the most.
Hurt people hurt other people, but loved people also love other people.
Heart to Heart
Each and everyday that your students come to your classroom, work hard to connect with as many as possible first as human beings, before they enter your classroom as a student. This could be through asking a question about their weekend, their family, or something that you know they are passionate about or interested in. The best way to know which questions to ask is to intentionally get to know your students. One teacher who recently attended one of our CharacterStrong One Day Educator Trainings, recently shared that they give every student a notecard and ask them to write down one thing they could teach their teacher. What a great way to connect.
+ one more
After completing the "Four at the Door" with students, there is one more step. When students come into your classroom, there needs to be something ready for them to do, that has been explicitly taught, practiced, and reinforced as apart of your classroom procedure. This starts the class period off with a personal connection, but also an organized process that gets students right to work academically.
Note – Research shows that if teachers greet at their door consistently using the strategies above and then have an entry task ready to go for when a student sits down that on average they will increase the academic engaged time in an average hour long class by 20% which equals out to approximately 12min!
References
Cook, C. R., Fiat, A., Larson, M., Daikos, C., Slemrod, T., Holland, E. A., . . . Renshaw, T. (2018). Positive Greetings at the Door: Evaluation of a Low-Cost, High-Yield Proactive Classroom Management Strategy. Journal of Positive Behavior Interventions, 20(3), 149-159.
In all
50

states
+

21

Countries
Over
100,000


educators trained
Over
3.2

million
students served