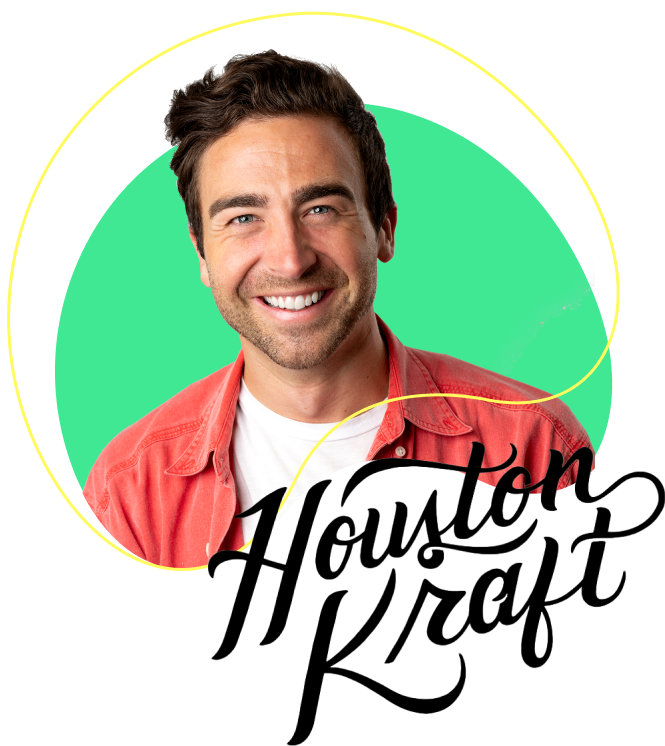 Engaging. Interactive. Relevant.
"As the keynote speaker for our conference, Houston Kraft brought an engaging and interactive session that had our participants involved with him and with each other. The emotion in the room was raw and real—and not just because the group was comprised of school counselors! Houston had a great balance of humor, intensity, excitement, compassion, and transparency that kept everyone immersed in the experience from beginning to end. I can't recommend him enough for your event!"
Lesley Casarez, Ph.D., President of Texas School Counselors Association
Houston is a speaker, author, and
kindness advocate
He has spoken to over half a million people LIVE at over 600 engagements and counting. He is the co-founder of CharacterStrong which serves over 5000 schools in all 50 states and 21 countries. He is the author of Deep Kindness: A Revolutionary Guide for the Way We Think, Talk, and Act in Kindness. His work has been featured on CNN, Hallmark, Fatherly, Greatist, and more. His messages about character, social & emotional learning, leadership, compassion, and kindness resonate with audiences age 5 to 95.
"I mean this in all sincerity - Houston is the best Character Education presenter I've ever seen or heard. Believe me, I've heard thousands of them since 1992. In addition, his materials are terrific. He is the future of Character Education. I can't put into words how much admiration I have for him, his character, and his work."
Dr. Hal Urban, Author, Teacher, Speaker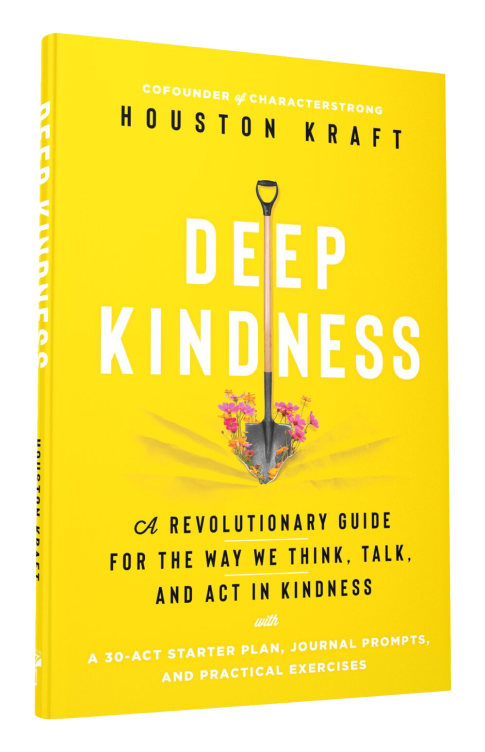 Deep Kindness
Deep Kindness: A Revolutionary Guide for the Way We Think, Talk, and Act in Kindness
Deep Kindness pairs anecdotes with actions that can make real change in our own lives, the lives of others, and throughout the world. Diving into the types of kindness the world needs most today, this book takes an honest look at the gap between our belief in kindness and our ability to practice it well—and shows us how to put intention into action. Exploring everything from the empathy gap to the skill of emotional regulation, Deep Kindness is perfect for educators and students looking to create a more kind school and world.
What Gets in the Way of
Kindness

?

We all know Kindness is a great thing. Perhaps the better question is, "What gets in the way?" A self-reflective and interactive keynote that focuses on closing the gap between beliefs and actions.
To Be Lists > To Do Lists
Convenience is the enemy of compassion. In this personal and heartfelt keynote, Houston talks about his mom's battle with cancer, our cultural misunderstanding of Kindness, and how to refocus (in a very practical way) our daily pursuit of what's most important.
Supporting the
Mental Health and Well-Being

of Students & Adults

With seemingly endless obstacles over the past 3 years, those in the field of education face increased stress and pressure. Our students are navigating increased mental health challenges. In this resource-packed follow up session to Houston's keynote, he will share simple, but impactful ways to provide meaningful supports for student AND adult well-being to decrease anxiety and increase hope.
Partners in
Change
"Houston Kraft was exactly what our conference needed to get people feeling comfortable, connected, and excited to dig into meaningful work! He is dynamic in front of any size group - having worked with us during a general session, a luncheon keynote, and a standing-room only workshop that received nothing but five star reviews. A gifted storyteller that also provides practical resources and tools that our delegates could put to use immediately - Houston is a must-have for your event!"
Dean D'Ambrosi, Vice President of Character.org