Webinar
Helping Students Navigate Stress & Trauma Right Now
CharacterStrong's Co-Founder Houston Kraft and some incredible students will talk about the research-backed ways to help young people navigate stress in their life and share some inspiring stories of how a group of 6 students have put these strategies into action with some meaningful results. In this webinar, you will learn about the idea of Threat vs Challenge, the strategy called Shift & Persist, giving and receiving support, and the power of gratitude.
Panelists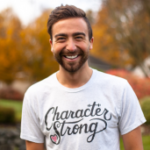 Houston Kraft
CHARACTERSTRONG CO-FOUNDER
Houston Kraft is a professional speaker, leadership consultant, and kindness advocate who speaks to middle schools, high schools, colleges, and businesses nationally. He has spoken at over 500 events and counting.
Explore Our Webinar Library
Stay up-to-date on the latest webinars
Subscribe to CharacterStrong webinars here.