Webinar
Integrated Solutions for PreK-12 SEL
Join us for an "Integrated Solutions for PreK-12 SEL" webinar on Thursday, October 20th as we discuss proactive school culture solutions and easy-to-use ideas for Pre-K through 12th grade social & emotional learning. We know the last few years have been difficult and we are here to provide practical tools to support student and adult needs.
Panelists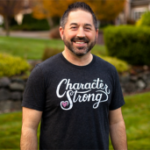 John Norlin
CHARACTERSTRONG CO-FOUNDER
John Norlin is a Co-Founder of CharacterStrong, a Servant Leadership trainer, and motivational speaker. He was Advisor of the Year, taught 5 leadership classes per semester for 10 years at Sumner High, and was an Administrator for the Whole Child.
Explore Our Webinar Library
Stay up-to-date on the latest webinars
Subscribe to CharacterStrong webinars here.