Webinar
Mindfulness: Finding Calm During Times of Uncertainty
Join Erica Saunders LMSW, as she shares some practical tools on how to use mindfulness as a personal tool and ways to share it with students while you are running your virtual classrooms. You will learn some great techniques and why it's important, especially in times of uncertainty and unrest. There will be a Q&A session at the end.
Panelists
Erica Saunders
COUNSELOR
Erica has been a counselor for over 20 years. She has experience with youth and families, supporting the pursuit of health and happiness through self awareness, connections to others, and integration of the mind and body.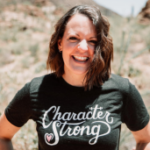 Krista Gypton
EDUCATOR
Krista Gypton taught for 19 years and has received numerous awards for her teaching and student community service, including the 2008 Arizona Teacher of the Year Ambassador for Excellence. She is an emphatic believer in the power of service to others and has traveled as far as South Africa with students to give back. She has been a keynote speaker and trainer for the past 11 years, both nationally and internationally. Krista is the new CharacterStrong School Implementation Specialist.
Explore Our Webinar Library
Stay up-to-date on the latest webinars
Subscribe to CharacterStrong webinars here.