Webinar
PurposeFull People Toolkit Walkthrough
PurposeFull People is CharacterStrong's K-5 Toolkit. It is intentionally designed to support any work you are already doing around Character Education and Social-Emotional Learning - and is a robust option on its own. Join co-founder Houston Kraft as he walks you through the toolkit and answers any questions you might have on how to get started at your school.
Panelists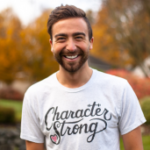 Houston Kraft
CHARACTERSTRONG CO-FOUNDER
Houston Kraft is a professional speaker, leadership consultant, and kindness advocate who speaks to middle schools, high schools, colleges, and businesses nationally. He has spoken at over 500 events and counting.
Explore Our Webinar Library
Stay up-to-date on the latest webinars
Subscribe to CharacterStrong webinars here.