Webinar
Top 3 Tips for School Culture Change
Tune in as Houston shares the Top 3 conversations and tools that he's seen be effective in shaping culture across the 600 schools he has worked with in person. Fast-paced, practical, and LIVE giveaways of CharacterStrong content, gear, and training registrations. A 30-minute Wednesday Win!
Panelists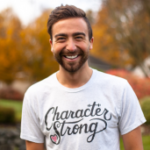 Houston Kraft
CHARACTERSTRONG CO-FOUNDER
Houston Kraft is a professional speaker, leadership consultant, and kindness advocate who speaks to middle schools, high schools, colleges, and businesses nationally. He has spoken at over 500 events and counting.
Explore Our Webinar Library
Stay up-to-date on the latest webinars
Subscribe to CharacterStrong webinars here.